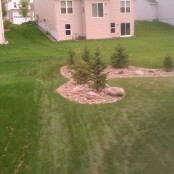 The right combination of hardscape and softscape gives your landscape vibrance and is a consideration in nearly every complete landscaping project. As the name suggests, softscape refers to the softer elements used in landscaping such as soil, trees, plants, flowers, and color schemes.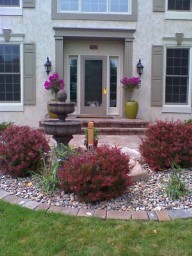 The combinations of softscape and hardscape elements are nearly endless. We'll work with you to figure out the level of maintenance you're looking for in your landscape, general aesthetic feel, and the individual considerations of your yard. We install trees, shrubs, and perennials as part of garden blocks and edging. We'll also handle putting in topsoil and black dirt along with landscape rock and wood mulch.
To finish off your yard we can either lay down sod or seed.
Softscape can be installed in addition to our many varied hardscape options, or it can be its own project to help improve the curb appeal of your home. Contact us today to get your free estimate.