We'll take you through every part of your project from design to implementation. While every project is different, the process for every customer is fairly similar. The first step is to request an estimate. Once we've reviewed your request we'll set up an appointment to talk more about what your specific needs are and perhaps get a visualization of your property.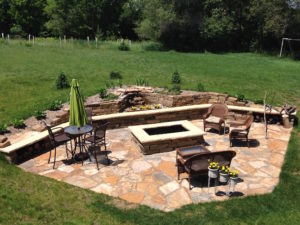 After our initial meeting we'll develop a plan of work and get an estimate of how much the cost will be. If requested we can also provide a visual representation of your project. During this stage we will explore and decide on what hardscape materials and plants to use and determine a timeline for the project.
Once the project has been discussed and you feel comfortable with the plan of work, we will call Gopher State One Call to locate utilities and pull permits if required before we begin installation. Our team has over 40 years of experience bringing projects to life and giving customers an enjoyable experience.